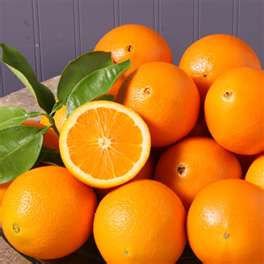 Navel oranges keep very well in cold storage so you can usually find them at the grocery store year round. But an orange in August tastes very different from an orange eaten in February. Like most produce, nothing beats eating an orange at the peak of its season, which happens to be right about now. This means that most Kitsilano grocers currently have excellent deals on navel oranges. Both Safeway and IGA Marketplace are offering 10 pound boxes of navel oranges for $4.99, Young Brothers Produce for $0.39/lb and Capers/Whole Foods with the organic variety for $0.99/lb.
At my house, the juicer has been making orange juice constantly for two weeks straight, but I appreciated the fruit even more paired with my new olive oil and balsamic vinegar from Vancouver Olive Oil Company and crusty bread from Plaisir Sucre (Arbutus/W 11th) in this super easy Orange and Balsamic Chicken recipe that was on the table in under 20 minutes.
Orange and Balsamic Chicken (serves 4)
Ingredients
4 bone-in, skin-on chicken thighs (about 1 1/2 pounds total)
Coarse salt and ground pepper
1 tablespoon extra-virgin olive oil
3 tablespoons balsamic vinegar
1 or 2 unpeeled oranges, cut into 4 or 8 wedges
1 tablespoon unsalted butter
Directions
Preheat oven to 450 degrees. Season chicken with salt and pepper. In a large ovenproof skillet, heat oil over medium-high. Add chicken, skin side down, and cook until golden and crisp, 7 minutes. Transfer chicken to a plate and pour off fat from skillet. Return chicken, skin side up, to skillet and transfer to oven. Bake until cooked through, 10 minutes. Transfer chicken to a plate.
Heat skillet over medium and add vinegar and orange wedges. Cook, stirring and scraping up browned bits with a wooden spoon, until orange begins to soften, about 2 minutes. Remove from heat and stir in butter. To serve, return chicken to skillet and toss with orange and sauce.
Recipe (slightly modified above) credited to Marthastewart.com
Last modified: February 16, 2012