After eight years of serving the Kitsilano community, Yuji's Japanese Tapas at 2059 West 4th Avenue will be closing its doors on Saturday July 9th.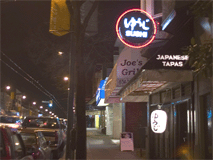 The Straight picked up on the story thanks to an updated answering service message:
We regret to inform our loyal customers that we have sold our business. Yuji's last day is Saturday, July 9. We would like to thank everyone for their support for the last eight years. Thank you very much.
Last modified: July 7, 2011